21 Jun 2013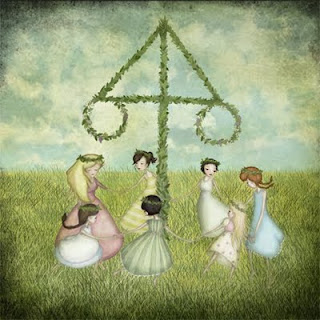 This beautiful illustration is by Majali Design and Illustration
Today here in Sweden is Midsummer Eve – a day spent dancing around a maypole beautifully decorated with flowers, singing songs about small frogs, eating new potatoes, herring and strawberry cream cakes, and of course, drinking and enjoying the never-ending sunshine. We will be spending it with some of our lovely international friends from Iceland, Serbia and Sweden.
Here are some interesting links I came across this week:
A study by scientists from the University of Oxford and Edinburgh reveal that most European men likely originate from hunter gatherers, rather than farmers from the Near East, as was previously thought.
This photography series of grandmothers from around the world and their food is just lovely – by Gabriele Galimberti.
You know when you're a Third Culture Kid – tumblr. This one made me laugh, and this one is very true.
In Finland, every new mother who receives pre-natal care receives one of these amazing boxes packed with beautiful baby clothes and supplies. The box comes with a mattress and can even be used as a baby bed.
The far-right Golden Dawn movement has expanded to part of the 300,000 strong Greek diaspora in Melbourne, Australia – although there have been attempts by some prominent members of the Australian Greek community to prevent Golden Dawn MP's from being granted visas to enter Australia on a planned visit later this year.
At the moment I am teaching myself how to program in R because I find data visualization a much more powerful way to get information across – spatial.ly is one of the best websites out there.
And to finish it off in Midsummer spirit – here is a fairly tongue in cheek video about the day that seems to have been made by the Swedish tourism website:

Have a wonderful weekend!