23 Nov 2011
Here is my old recipe for gingerbread snowflakes. They are delicious and very cute, perfect for Christmas time.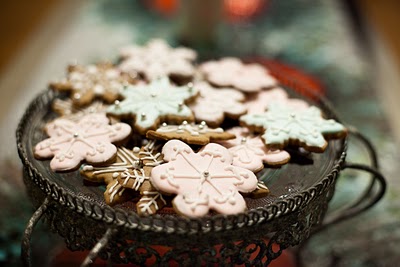 You will need:

1/2 cups of brown sugar

130 g

unsalted

butter
1/2 golden syrup (or

treacle

)
1 egg,

separated

3 cups of plain flour

1 1/2 tbsp ground ginger

1 tbsp

cinnamon




1/2 tbsp ground cloves

1 tsp bicarb soda

200 g icing sugar

Snow flake cutter

Preheat your oven to 180 degrees Celsius.
Combine your butter and sugar in a mixing bowl and when smooth separate your egg and add the yoke into the mix and combine. Combine in the golden syrup.
Sift in the flour, bi carb soda and spices and combine with the rest of the mixture.
Knead into a smooth ball and wrap in cling wrap and then place in the fridge for at least an hour, but I would recommend a couple of days so the spicy flavours thoroughly infuse the dough.
After at least an hour (I left mine in the fridge over night), take the dough from the fridge and lightly dust a clean surface with some plain flour and well as lightly dusting your rolling pin with flour as well.
Take a little of your dough and roll it until it is fairly thin, no more that about 4 mm high and put them on trays covered in baking paper and place them in the oven for about 10 minutes until they are golden brown.
Repeat for the remaining dough.
Once the gingerbreads have cooled, it is time to ice them.
For the icing put your left over egg white to good use by using an electric mixer to mix it until it forms fairly stiff peaks and then sift in the icing sugar and combine. Add in a couple of drops of food colouring if you like. I used a couple of different bowls and added red to one, blue to another and left another white.
The icing part took me a looooong time to get the hang of – not only to get the correct consistency for the icing (add more icing sugar for finer details, water to thin), but also to be able to ice without the snowflakes looking like they had been iced by someone who had just had 7 bottles of vodka. Finally after a about 10 cookies that looked so ugly I made Geoff eat them so they would not see the light of day, I got the hang of it.
I am looking forward to making more soon to practice my icing skills (and because they are delicious!).