27 Oct 2011
There is nothing I love more in life than a wintery recipe containing cinnamon, and this one, with light and fluffy sponge, drizzled with an almost glühwein flavoured caramelised sauce of cinnamon, star anise, orange, lemon, vanilla bean and pear, was simply divine. It is especially perfect on a cold, Autumn night, with a nice bottle of wine and some good friends.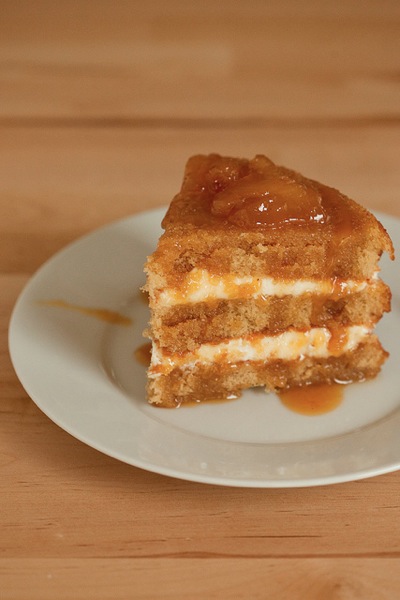 The recipe I used is based on the one found here although as you can see I made only three layers of sponge cake and as a result, made less of the crème fraîche filling. I also added some pear essence to the sponge itself – only 1/4 teaspoon for each layer, and when I make this again, I plan to use at least 1/2 a teaspoon per layer. Don't be turned off by the sheer number of ingredients or steps, it is much more straight forward than it looks!
The Recipe (for three layers)
Ingredients for the Sponge
9 eggs
120 g brown sugar
120 g caster sugar
1 1/2 vanilla beans (the seeds)
1 1/2 tsp pear essence (not essential)
225 g flour, sifted three times
1/2 teaspoon of baking powder
90 g unsalted butter, melted and cooled
Ingredients for the Filling
500 g crème fraîche
100 g cream
30 g icing sugar
1/2 vanilla bean (the seeds)
Ingredients for the Caramel Pears
700 g caster sugar
Juice and rind of 11/2 lemons and oranges
2 cinnamon sticks
1 star annise
1 vanilla bean (the seeds and bean)
8 ripe pears, cut in half and the core removed (use a spoon if you don't have a melon baller)
120 ml of desert wine (optional)
100 ml cream
30 gm butter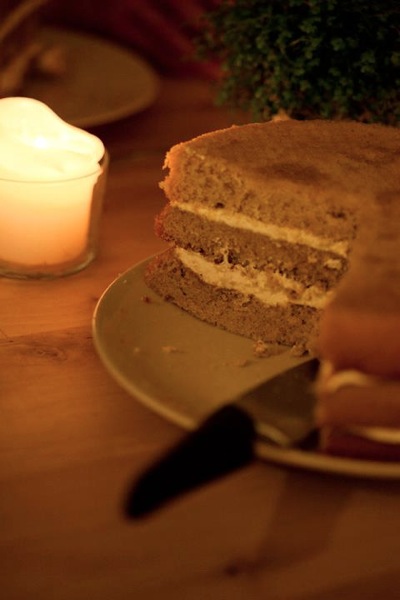 Method
1. Preheat your oven to 180C.
2. I made the sponge three times as I don't have an oven that can hold 3 cakes, nor do I have 3 cake pans. If you will also do this, then simply divide the recipe by three and make it three times so that the mixture is still light and fluffy by the time you put it in the oven. Whisk the eggs, sugars and the vanilla seeds (and pear essence if you have it) together until very light and fluffy. This will take around 10 minutes. Sift the flour and baking powder together in another bowl (3 times) and fold into the eggs mixture in two lots. Fold in the butter. Butter your cake tin (20 cm) and carefully pour in the mixture. Cook for 15 minutes.
3. Repeat step 2 twice more if you plan to make each layer at a time.
4. Whip the crème fraîche, cream, icing sugar and vanilla bean seeds together until light and fluffy. Leave in the fridge for later.
5. Peel, halve and core the pears. Add to a large saucepan the rinds, sugar, juices, spices, vanilla bean and seeds, along with 1 litre of water and once the sugar has disoved, add the pears. Simmer with a lid until the pears are tender, and then remove them to a bowl for later. Strain the liquid and simmer again until the sauce begins to reduce and thicken. Add in the butter, cream and desert wine and stir together. Add in the pears again to warm them.
6. Now it is time for the fun! Build you cake, starting with a sponge layer, a little drizzle of caramel sauce, the crème fraîche layer, another sponge layer, repeat, etc. Once you have finished, drizzle the entire cake in your caramel sauce, and place the pears strategically over the top of the cake.
7. Cut and serve while warm. Enjoy!
3 Responses to "Brown sugar sponge cake with caramel pear sauce"