11 Nov 2011
This last week has been a bit crazy. We moved apartments (for the third time this year) in Stockholm – and luckily our new one is for a year, complete with Kasper our new pet cat, while his owner works in the Congo.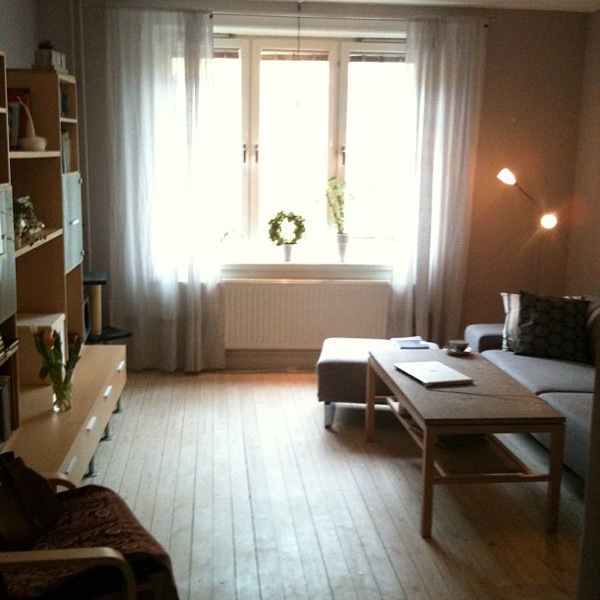 Note my wreath plant – a featured item in every Swedish home – my orchid (another pre-requisite) lives in the kitchen.
This week has also included two trips to the Migrationsverket (The Swedish Migration Board) to have my biometrics taken for my new residency permit. You normally only have to go once – however on my first trip I forgot to bring my new address with me, and as luck would have it, my phone was sitting patiently at home on recharge, so I wasn't able to call Geoff to ask him. So back I went the next day.
The Migrationsverket was actually very simple and quick to navigate. It opens at 9 am, so I arrive at 8.45 or so, joined the end of the queue (there were about 30 people before me) and at 9 am we were allowed to take a ticket (ticket machines are a popular feature just about everywhere in Sweden) and only 15 minutes later I was called up to have my biometrics taken – a finger print, my photo and height, all over in 10 minutes or so.
Now on Friday, only 4 days later, I have my new residency permit! That said, Geoff is still waiting for his and he had his biometrics taken 2 weeks ago, so I suppose it depends on who is processing it. Now we are one step closer to the elusive personnummer! One we have that, the world of Sweden will open before us! Well… at least we will be able to order things online from IKEA.
So a great start to a weekend that involves a trip to a Christmas market at a castle and a friend's housewarming party.
4 Responses to "What at Week!"