14 Nov 2011
On Saturday, Geoff and I joined the Stockholm International Researchers Association on their annual trip to the Taxinge Slott Christmas Market, about an hour away from Stockholm.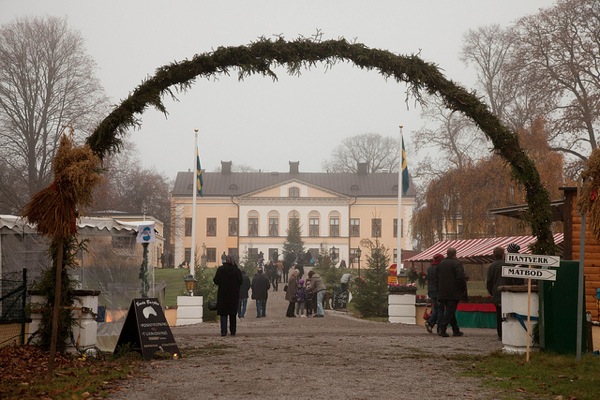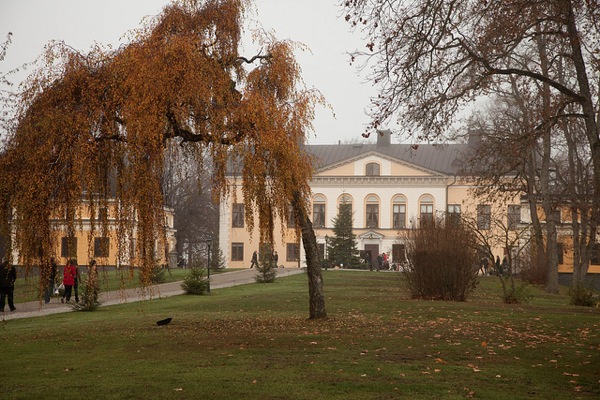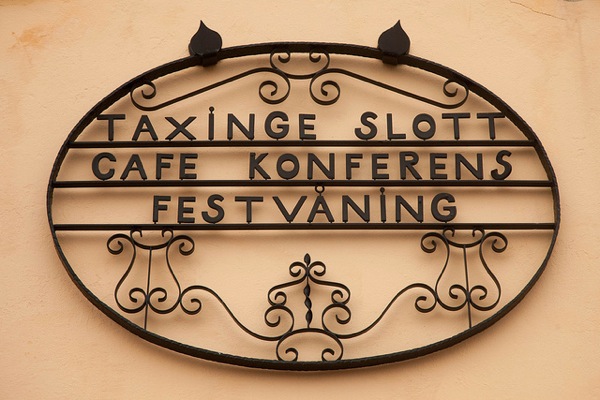 We began with coffee, biscuits and a delicious smoked ham sandwich inside the castle, during which the local farmer who renovated Taxinge from its very dishevelled state many years ago, told us about the history of the castle, and about how his wife and daughter began the cafe and still bake all of the cakes for which Taxinge is now very famous.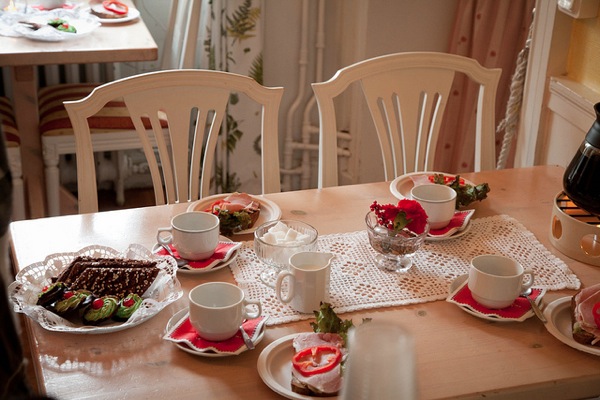 The Christmas Market was lovely – sadly you can't take pictures inside, but they sold many local handicrafts such as Swedish advent candle holders, Christmas decorations, plenty of warm woollen hats, socks, gloves, and jumpers to keep you warm in the freezing Swedish winters, tiny little red and white spotted mushrooms made of pottery, mugs, biscuit cutters, turned wooden objects, candles, items made of straw, and plenty more.
Here is a store selling wreaths – one is now hanging on my wall.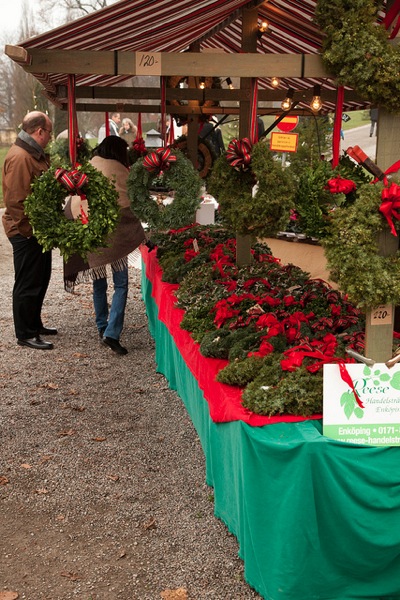 The area selling delicious food: Fried herring sandwiches, warm glögg, smoked sausages, cheese, freshly roasted almonds, preserves and much more.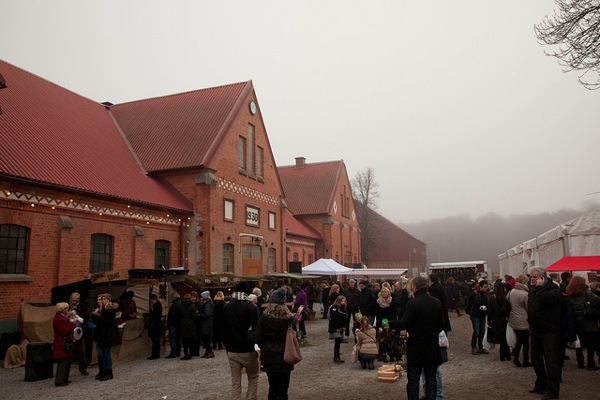 A Julbock or Christmas goat: In Sweden at Christmas time Gävle famously builds a huge straw version of the goat, and inevitably people attempt (and normally succeed) in burning the poor thing down. It's a bit of a national sport really, and English bookmakers even take bets on the likelihood of it surviving. The official line of the inhabitants of Gävle is that burning the goat is a very bad thing, however I am sure they are just as entertained as everyone else as to whether or not the goat will survive, as at the end of the day, a straw goat happily sitting in a square for the winter is not very exciting really. Last year it was reported that the guards protecting the Julbock were offered a bribe to leave it unprotected so that it could be stolen by helicopter and taken to Stockholm… but their love for the goat proved too strong and it survived intact. Let's see what happens in 2011…
Luckily this one also survived (at least) the first day of the Christmas Market without falling prey to a firebug.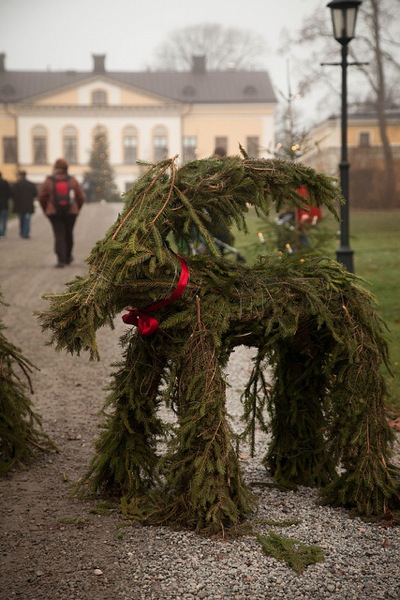 Then it was off to see the park and land surrounding Taxinge. Some local horses: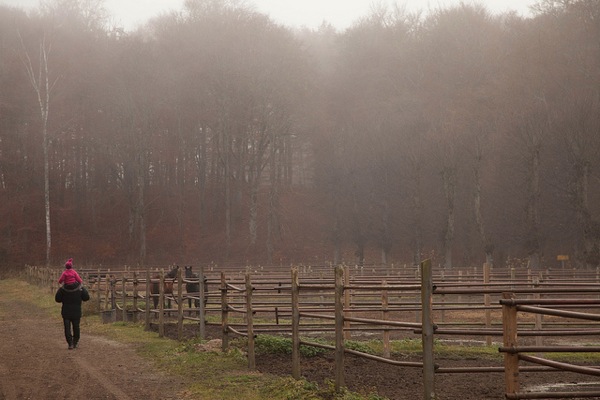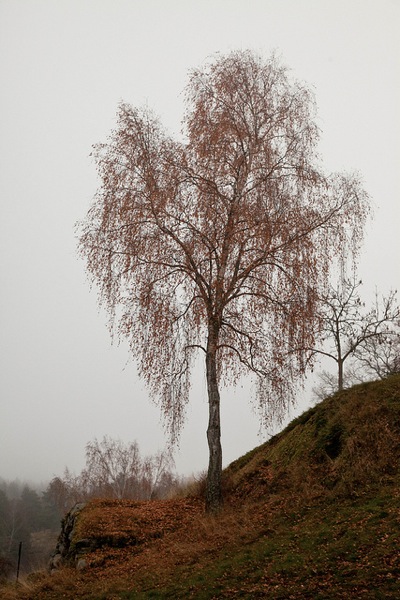 It was a very misty day, which made the view of the lake quite magical. In summer a steam ship operates from the city hall in Stockholm and takes you to Taxinge to enjoy all of the delicious homemade cakes. I am looking forward to going back again then.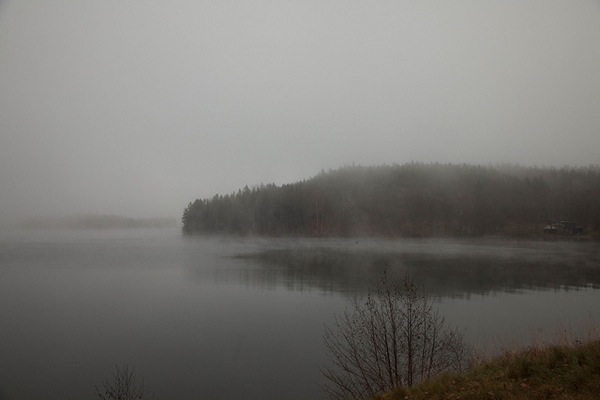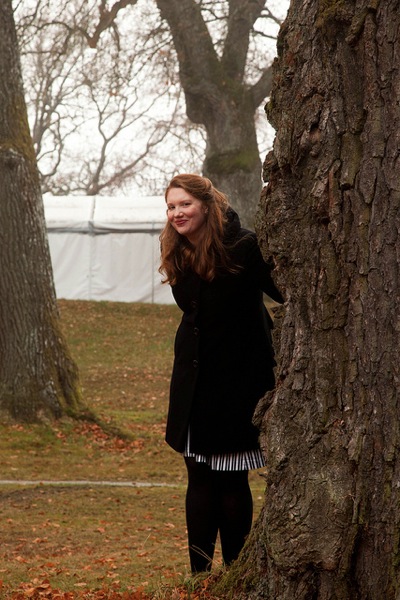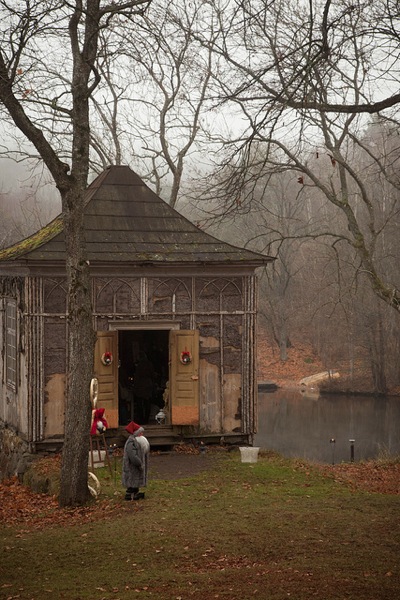 And of course, some traditional red Swedish houses located in the grounds. I would like to have one of these in a forest one day.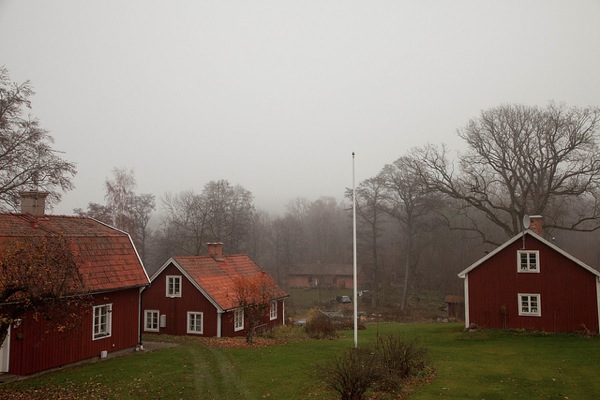 The Christmas Markets are
open
at Taxinge again on the 17th to the 20th of November, and entry is 70 SEK.